Adding photos to your invitation is an easy way to make your invitation more personal. You do this in the same formatting window as you change and add text.

You can e.g. add a nice theme image or a finished invitation with both image and text that you e.g. have as PDF. Just keep in mind that you must first change the format to an image file e.g. jpeg or png for uploading.
Here's how to do it in 4 easy steps:
Click "Add text" or "Edit text and/or add images". Position the cursor where you want to insert the image.
Press "Insert/edit image".
You will then get a pop-up box where you can search for an image you have saved. Select the image you want to upload to the invitation.
The image can be a maximum of 3 MB. Select dimensions (approx. 850-880 in the first box for full width) and press OK. Feel free to try your way at getting the right width of the picture!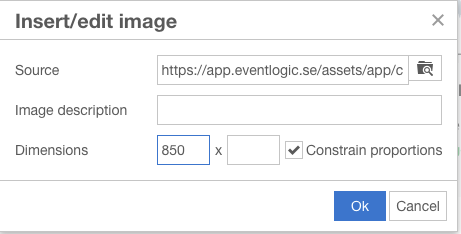 4. Highlight and center the image to get it right in the middle and when you are satisfied press "Save Description".
----------------------------------------------------------------------
Visit our Knowledge Base for more handy articles and tips and tricks!